Get in
touch!
Phone : +91 9811062948 ; +91 9871955433
Email :  khanak.performing.arts@gmail.com

For Kerala Branchclick here

INTRODUCTION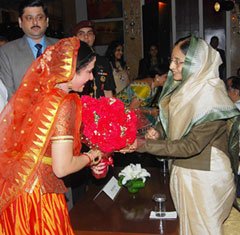 'K H A N A K' Institute of Performing Arts, was constituted by its founder Smt. Monisa Nayak, an accomplished Kathak exponent and National Awardee of Sangeet Natak Academy, India. It is a cultural organization, bent on creating awareness of Classical Art Forms amongst people from different walks of society and for the promotion of Indian Culture.
Khanak, seeks to facilitate deeper understanding and appreciation of India's precious heritage of Dance & Music. One of the main objectives of this society is to train dancers and musicians committed to pursuing the Classical Art as a passion or as profession. The training programmes are designed in such a manner to mould artists par excellence.
Theoretical and practical training is imparted in KATHAK DANCE, VOCAL MUSIC AND YOGA. The courses of study which are followed are those, approved by the Akhil Bhartiya Gandharva Mahavidyalaya Mandal, Miraj, Maharashtra.
CLASSES & OFFICE TIMINGS:
11am to 8pm (Seven Days)
ABOUT KATHAK
Kathak dance is said to be originated in the temples of North India before finding its way into the royal courts

FOUNDER

Monisa Nayak is an accomplished Kathak performer of the Jaipur Gharana who has dedicated herself to perfecting her art form.