Founder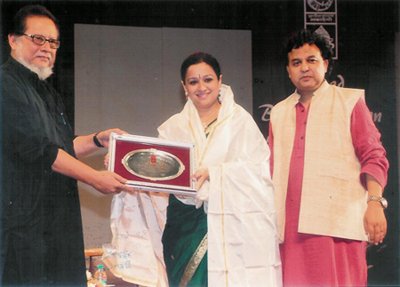 Monisa Nayak is an accomplished Kathak performer of the Jaipur Gharana who has dedicated herself to perfecting her art form. Her excellent command of rhythm, as well as her natural flair for profound expression, mark her performances and are critically acclaimed by connoisseurs. A Post graduate from the national institute – the Kathak Kendra, New Delhi & a disciple of Pandit Rajendra Gangani, is an A- Grade artiste of Delhi Doordarshan. Monisa is also an empaneled artiste of the ICCR, Ministry of External Affairs, Govt. of India.
Awards
In recognition of her prodigious talent, versatility and dedication to the art form, she has been honored with
National Award, Ustad Bismillah Khan Yuva Puraskar of Sangeet Natak Academy, India
. She also received the Sanatana Nritya Puraskar and the Sangeet Kala Ratna, as well as the Sanskriti Kalakriti Fellowship for research in Kathak choreography.
Performances
She has performed widely in major festivals within and outside the country, both as a soloist and as an important member of renowned groups. Khajuraho Festival, Presentation for US President Mr. Obama's visit at Rashtrapati Bhawan; Malhaar Festival of ICCR; Taj Mahotsav, Agra; Kalakshetra Kathak Festival, Chennai; Shivratri Mahotsava, Varanasi; Kerala Kalamandalam; and Doordarshan's National Programme of Dance are some of her more notable performances within India. She has also combined her dance experimentally with other art forms like fashion design, retaining, all through, its classical vocabulary. To depict the moods of rain created a fusion of traditional Kathak with fashion show executed by designers Ashima-Leena.
Her overseas performances include Milapfest, UK; Incredible India @ 60, New York; Indo-Canadian Cultural Association, Toranto, Canada; Allegro Vivo-Internationales Festival, Austria; Tropentheatre, Holland; the Geneva Festival, Switzerland; tours in the Middle East, UK, Italy, South East Asia as well as in Canada,Germany and Venezuela (for the ICCR).
Contribution
She conducted Kathak dance workshop at Rajasthan sponsored by Spic-Macay and actively presents Lecture-Demonstrations at various schools and collages, all over India under Virasat Series, for spreading her Art form and to create awareness among children towards classical heritage. As part of a mission to promote Kathak dance in rural areas, she presented Lec-Dems in Gondia and Panna district for enriching tribal youth. As part of her endeavor to promote the values of Indian Classical Dance Kathak & allied Arts amongst youth, Monisa initiated at her institution, unique methods of teaching and training through modernized & innovative ways.